Where Yoga is More Than Just Asana
Welcome to your yoga home: a sacred space to calm your mind, lighten your heart, and connect to your body.
Your Sacred Space to Dive Deep
Yoga is more than just the poses. This is your yoga home, without judgment, pressure, or rules: just deep inner connection, and lots and lots of yoga.
Modern yoga is often mistakenly believed to be just the practice of asanas (poses), but in fact, yoga is so much deeper than that: it's the ancient philosophy of connecting the soul to the universe in order to experience your true nature: bliss! At the Niantic Yoga Studio, we dive into this connection, not only through the combination of breath and movement in asana, but also through meditation, mantra chanting, art, dance, philosophy, and community.
Our asana offerings cater to all body types, ages, and ability levels, with everything from restorative blanket yoga to nourish yourself, slow-flow yoga to focus on alignment and gentle opening, and faster, more athletic vinyasa classes to build heat and joy.

Asana practice is a way of preparing the body to sit for long periods in meditation, so we recommend staying and joining for a meditation after movement.
Let go of stress and anxiety
40 million Americans experience anxiety that expresses itself in many ways, including fatigue, insomnia, feeling uneasy, or being overly amped up. These cycles negatively affect your body over time. So what's the answer? Yoga of course.
A yoga and meditation practice helps your mind and body balance and tolerate increased levels of stimulus without dropping into depression or leveling up into anxiety. Keeping this calm state of homeostasis is one very important key to healthy, vibrant, resilient living.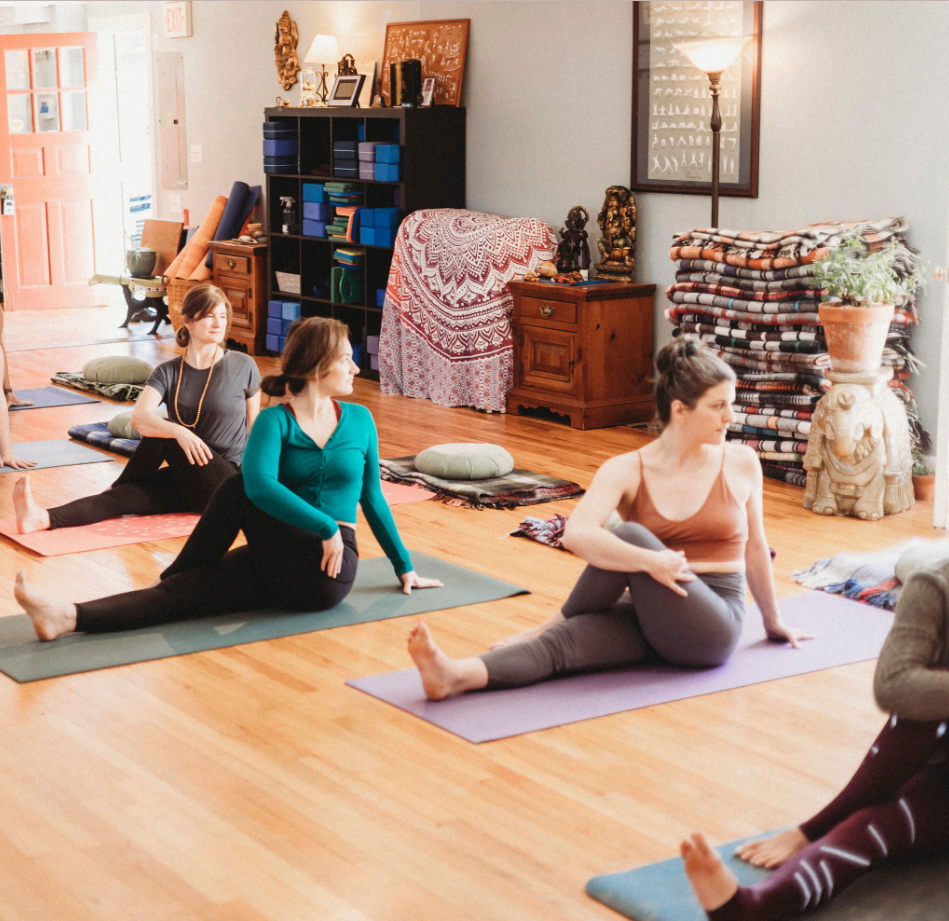 Vinyasa is a term that means flow. A vinyasa practice moves seamlessly between asanas (poses) using your breath to connect each pose. This style of yoga will improve your energy while helping you build strength and flexibility.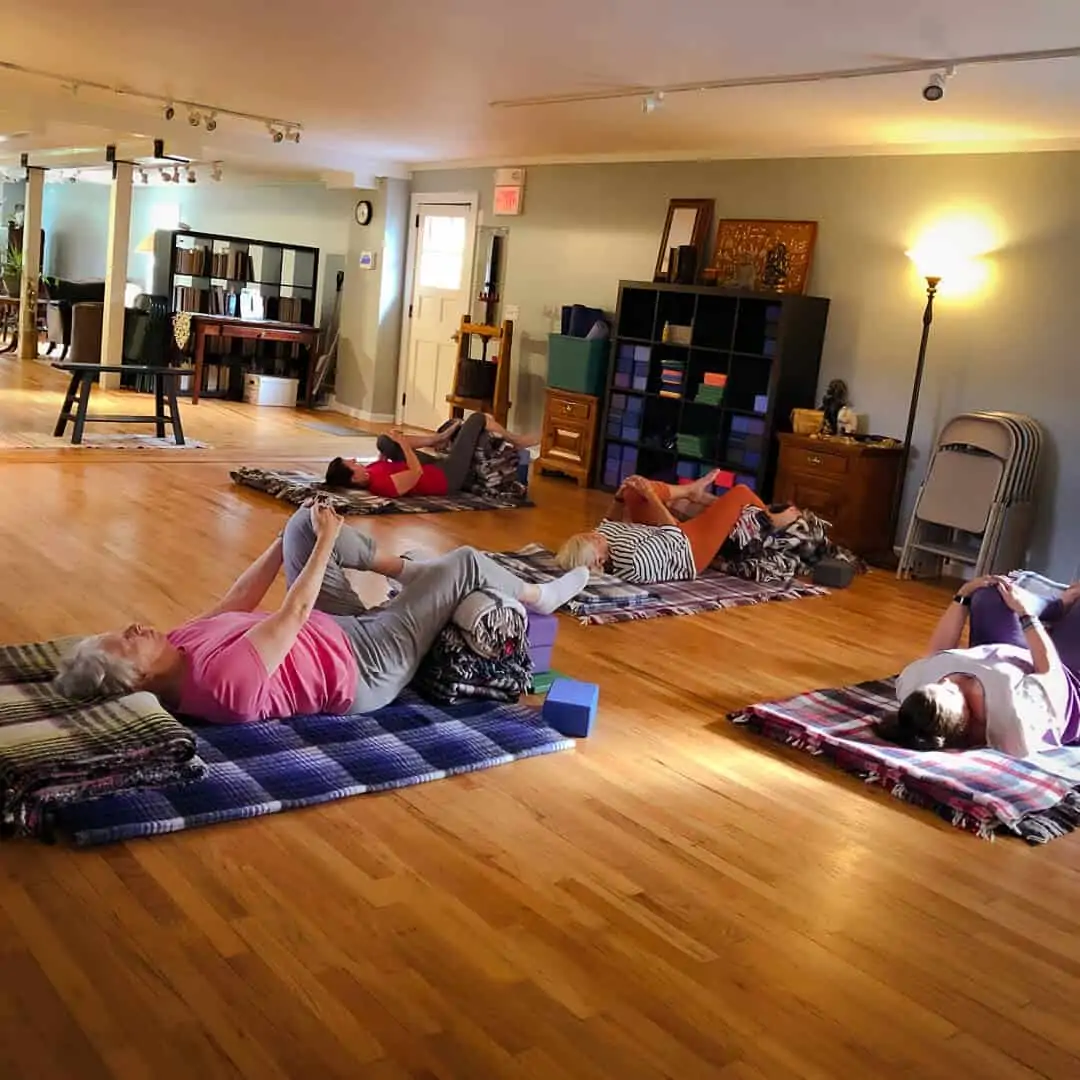 This style of yoga is gentle, restorative, and supportive of all body types, abilities and mobility. A non-athletic class that will make you feel like you just had a massage. The bliss is life changing.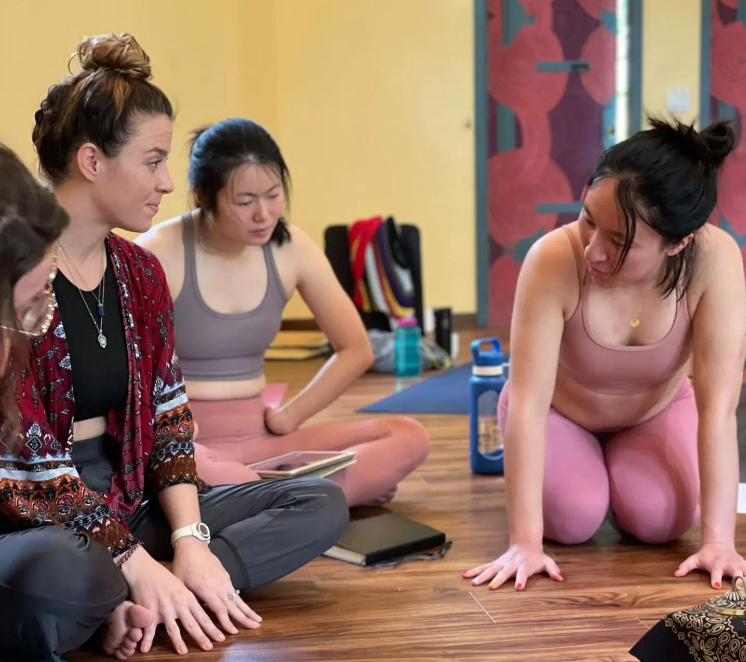 There is magic in learning, and when we come together and explore new ideas together, the dynamics shift and the learning becomes deeper. What will you do with this one precious life?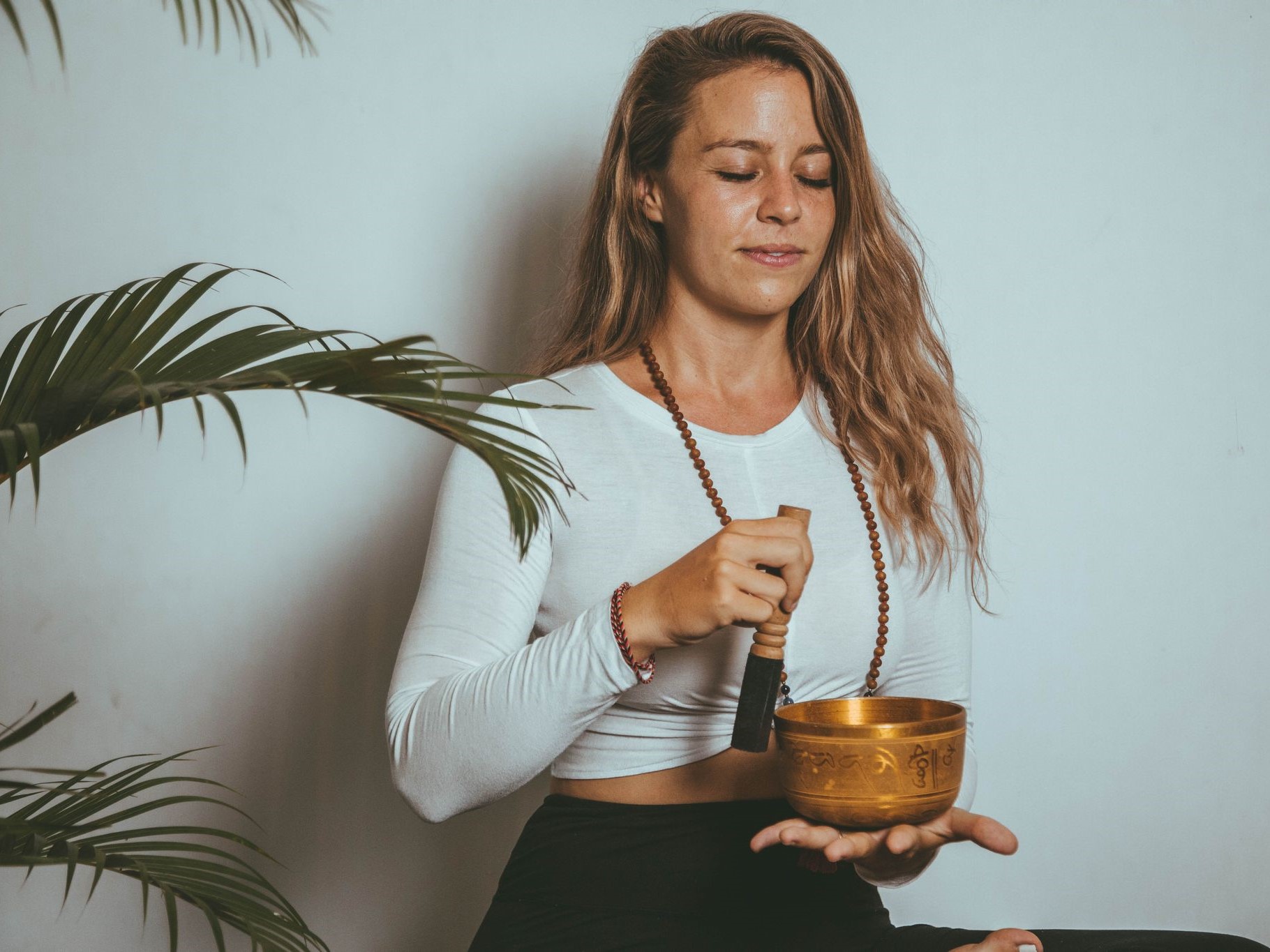 Meditation has been proven to have health benefits, both physical and mental/emotional. Learning to meditate is easier than you think, and it can have exponential benefits beyond simply calming your mind, which isn't always so simple.
Expert teachers from diverse backgrounds
Together we build a unique environment, one steeped in expertise, soul, and personality. The precious gifts our teachers bring to the community blesses each student, each class and our whole community.
A Welcoming Community to All
Niantic Yoga Studio is a diverse healing community that fosters both physical and spiritual balance in life by focusing on yoga and meditation, as well as other healing modalities.
The mission of The Studio is to always nurture recovery, stability, health, and wellbeing by creating a safe and sacred space that invites each of us to explore, discover and learn new paths of growth and holistic healing for our bodies, our minds, and our hearts. We encourage a long-term practice that allows slow, steady change that lasts a lifetime.
The Niantic Yoga Studio is very quaint, its interior is very homey, warm and inviting; not to mention its older interior adds to the vintage decorum that decorates the studio. Furthermore, the placement of security cameras ensures that both the instructors and the students can feel safe. Mrs. Rebecca Stefanelli is an amazing instructor, I legit snap crackle and pop like a rice crispy treat after each session.
The instructor was courteous and explained the movements well. I have a knee injury and she ensured I had a block and blanket ready for support. I enjoyed my first class and will definitely be going back!
BEST yoga classes I've ever taken. Kendra is AMAZING, I love her. I've learned so much and feel so good after the class. Thank you!
Excellent Zoom session with Sandy, I cant wait for the next session! Highly recommend this gentle yet powerful yoga practice. Niantic Yoga rocks!
A great experience and improved health and body awareness as always! I LOVE Niantic Yoga Studio!
The studio has provided me with a priceless opportunity to grow, discover, and build community - all things that I didn't know I needed until I had them. I am forever grateful for the studio.
Best form of yoga that I ever found in my 48 years of practicing yoga.
A beautiful studio! Great teachers and I love all the different types of classes to choose from! Highly recommend!
Great teacher, great people, very welcoming and amazing class! Highly recommend.
Fantastic studio that is now virtual. The Svaroopa style of yoga is restorative and has been life changing. The instructors are top notch and the community of online yogis is so supportive!!
The studio is beautiful and Emily was fantastic. Loved her teaching and the vinyasa class was perfect
Amazing! Beautiful space, professional yet relaxed atmosphere. I highly recommend!
I am fairly new to this studio. Everyone is SO nice, classes are terrific. Really enjoy the location.
What would you be if you could be anything? Isn't it time to say 'yes' to the best version of you yet to be? Happy. Whole. Complete. Yes!
Find the best fit for you
Our welcome package to all new students includes two weeks of unlimited membership benefits – try us on for size!
This auto-renew package allows you to attend all classes, all month long. Additional membership benefits explained on our pricing page.
5- or 10-class cards allow you to choose how frequently you attend classes. Auto-renew options offer the best per-class rates.
Our teachers have more than asanas to offer, they have deep experiences with their own practice as well as their training, education, immersion experiences and more. In our blog series we ask our teachers to share their yoga bits with you, our sacred community. Each one of us has a story to tell and we weave our chapters into one colorful thread.
Got unanswered bits? Let us know and we'll find answers for you!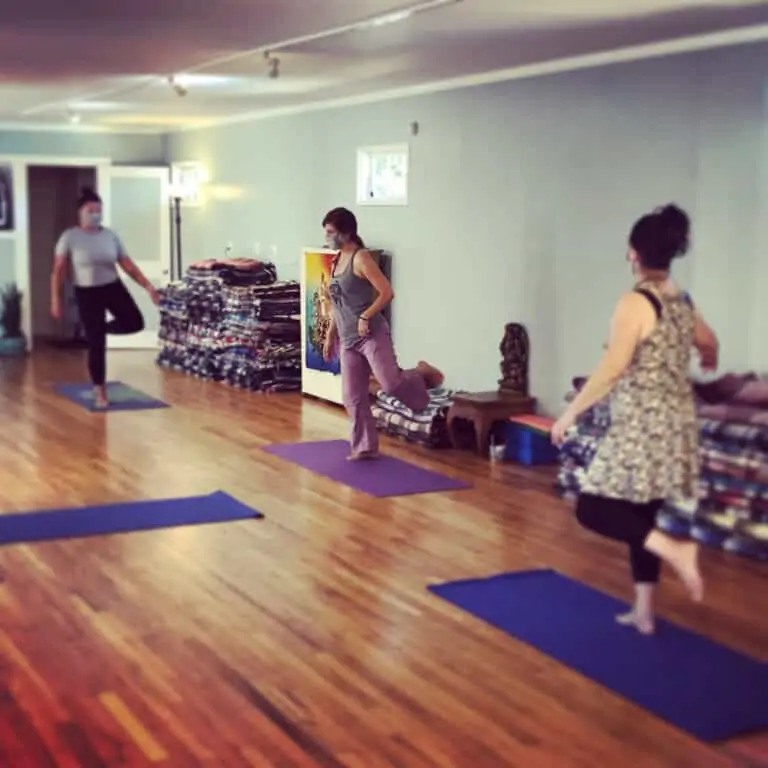 Niantic Yoga is proud to announce our new monthly series: First Friday Community Classes. These free classes will focus on relatable themes and how yoga and
Read More >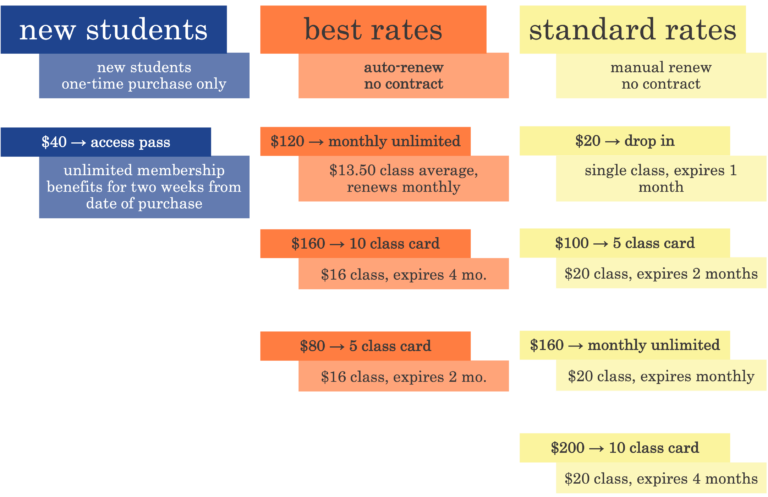 Post-COVID Pricing: Righting the Ship in the New Economy These new packages and prices go into effect on October 1, 2022. Make sure you read
Read More >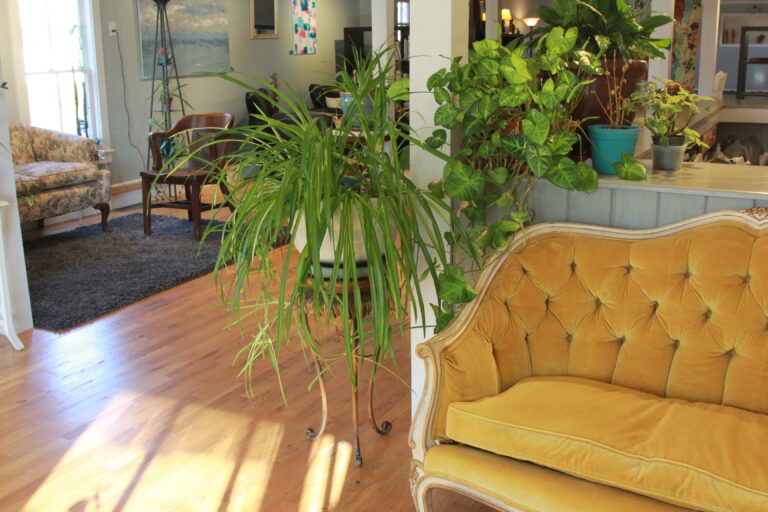 When COVID hit and we closed our studio space, our monthly membership holders helped us keep the doors open – even when we weren't offering
Read More >