Find the best fit for you
all prices are before CT sales tax of 6.35%
Our welcome package to all new students includes two weeks of unlimited membership benefits – try us on for size!
This auto-renew package allows you to attend all classes, all month long. You'll also get 50% off any workshops. If you plan to attend at least 2 classes per week, this is the option for you!
Get our biggest savings when you commit to your practice by paying for an unlimited 6 months upfront, at $648 before tax.
Enjoy five classes within two months and save a dollar per class! This package auto-renews, and can be cancelled at any time. The 5-Class Card is $80 before tax.
Enjoy ten classes within four months and save a dollar per class! This package auto-renews, and can be cancelled at any time. The 10-Class Card is $160 before tax.
One-off drop-in classes and manual renew packages are always available at $17 per class before tax. See schedule to book drop-in classes.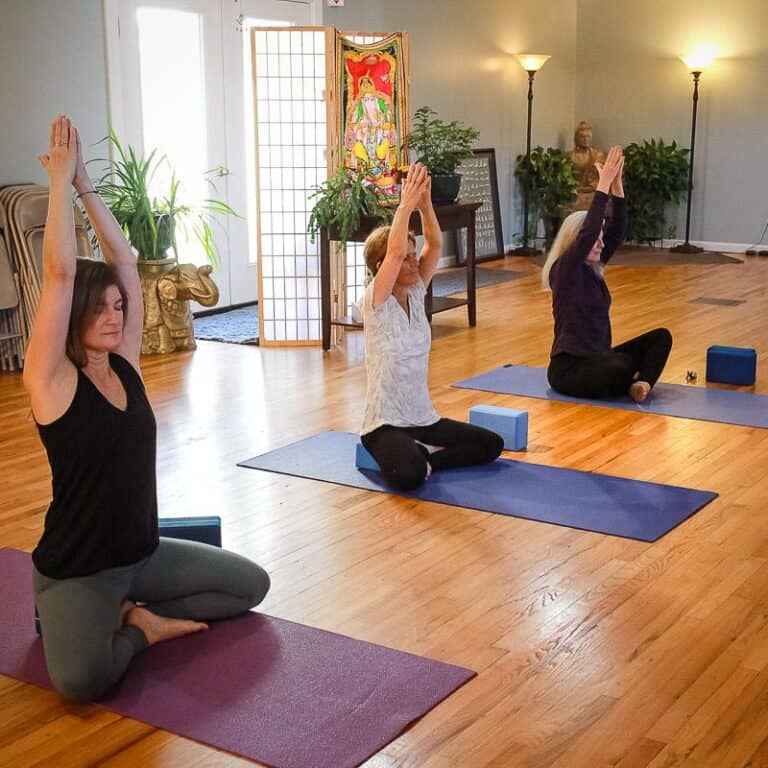 Auto-renew rates provide the best cost per-class value
Manual-renew 5 and 10 class cards also available
Feel the mat beneath your feet, soak in the aura of the Studio, and try out every class you can possibly cram into two weeks! Try each teacher, each time slot, each style of yoga the Studio has to offer. Once you've tried everything on, decide what fits your style, your mood, your yoga goals. What rings true in your heart? After two weeks you'll know exactly what you want from your membership at the Studio. At the end of your last class, stop by and chat with your teacher and see what package works for you and they'll get you signed up and ready to continue on your soul evolution through yoga.
One per person, per lifetime. Not shareable. 
You crave the easy, minimalist life. You crave simple, efficient, and decadent all rolled up into one yoga mat. With the ease of membership comes the ease of a daily practice. Set it and forget it, knowing you can sign up for any Studio class you want, at any time, every month. The auto-renew function gets you the best price this side of the beach, so you can rest assured your getting a solid return on your investment. You know exactly what you want: unlimited access to your home studio, right here on Main Street.
Auto-renew must be set up at the time of purchase. No contracts or long-term obligations, cancel anytime. Not shareable. Manual renew option available.
The world is an exciting place to explore and discover. You are an adventurer by nature and insist on having the flexibility of choice. To practice at the Studio, at home, on vacation, and even in your dreams. The freedom that long expiration of class cards provide is totally your jam. Whether it's 5 classes or 10, you have time to use them in between travel, work, and life. Free yourself up by choosing the auto-renew plans and you'll never look back – unless it's in the rear view mirror as you jet off to your next destination. Manual renew options exist, but why risk the hassle of running out of classes?
Cancel auto-renew anytime, no contracts or obligations. Single purchases do not auto-renew. Auto-Renew cards provide an average savings of $1 per class. Shareable with friends and family.
With gratitude from our hearts, we offer discounts and scholarships for local military families, school teachers, and our neighbors on Main Street. Out Yoga Teacher Training course is also eligible for the military spouse education scholarship (MyCAA), meaning that local military spouses may be able to become yoga teachers for FREE. If you're interested in learning more about our scholarships and discounts, please don't hesitate to reach out to [email protected] to claim your gift!

The yoga teacher training scholarship is available for military spouses eligible for MyCAA.
What would you be if you could be anything? Isn't it time to say 'yes' to the best version of you yet to be? Happy. Whole. Complete. Yes!